This event is connected to our current exhibition: Compost Culture: The Art of Regenerative Transformation on view October 29 - December 17.
Description: Join us for a potluck brunch talk story with some of Kona's prolific composters as they share about their efforts bringing compost and compost culture to the community through their work. They will also talk about their successes and challenges and will discuss what the future of composting, agriculture, and food sovereignty could be like in Kona–and how we can work together to get there.
Invited panelists are Shantee Brown of Compost Therapy, Chantal Chung of Maʻona Community Garden, and Deano Maruyama of Organic Matters Hawaiʻi.
This event is open to the public and free to attend with the presentation of a $5 Kona Coffee Cultural Festival button.
Please register for this event so we have an accurate head count for our potluck planning purposes!
About the Panelists
Shantee Brown was raised in Waikōloa and spent most of her adulthood in North Kona. Her mom instinctively composted in their backyard garden, normalizing it at a young age. Shantee then spent time with Master Gardener, Margaret Krimm, who instilled in her the importance of soil building. While living in Seattle, Shantee volunteered as a lead composter at the Beacon Food Forest. She also received a Master Composter/Soil Builder Certificate from Seattle Tilth.
Chantal Chung is one of the founders of Maʻona Community Garden, which works to support and create community food systems, integrating food production, processing, distribution, and consumption to improve the environmental, social, and economic health of South Kona on Hawaiʻi. Chantal has been working on this project since 2007, creating a 5.54 acre demonstration site for various agricultural techniques, providing growing space for individuals, families and partner organizations, and conducting workshops and outreach sessions which provide resources and hands-on experience to increase the capacity of gardeners and farmers.
With the mission to transform green waste that would otherwise fill our landfills, into nutrient-rich compost, Deano Maruyama is the owner of Organic Matters Hawaii. Inspired by the necessity to create a local, sustainable growing material for our community, his company is rooted in the responsibility to be stewards of the land.
With a degree in business administration from San Diego State University and an inherited interest in agriculture, Deano was taught the ins and outs of agriculture by his father who had conducted his own research and possessed decades of experience. Around the same time he was starting his business, Deano became a new father and parenthood gave him the drive to see his daughter grow up in a greener world. He embarked on the journey with a hand-me-down tractor, a self-built screener and a mission to protect the environment for future generations.
This exhibition and programs are made possible by the Kona Coffee Cultural Festival and County of Hawaiʻi Contingency Funds from Holeka Goro Inaba (North Kona, District 8).
Ceramics
Ceramic Open Studio Schedule: September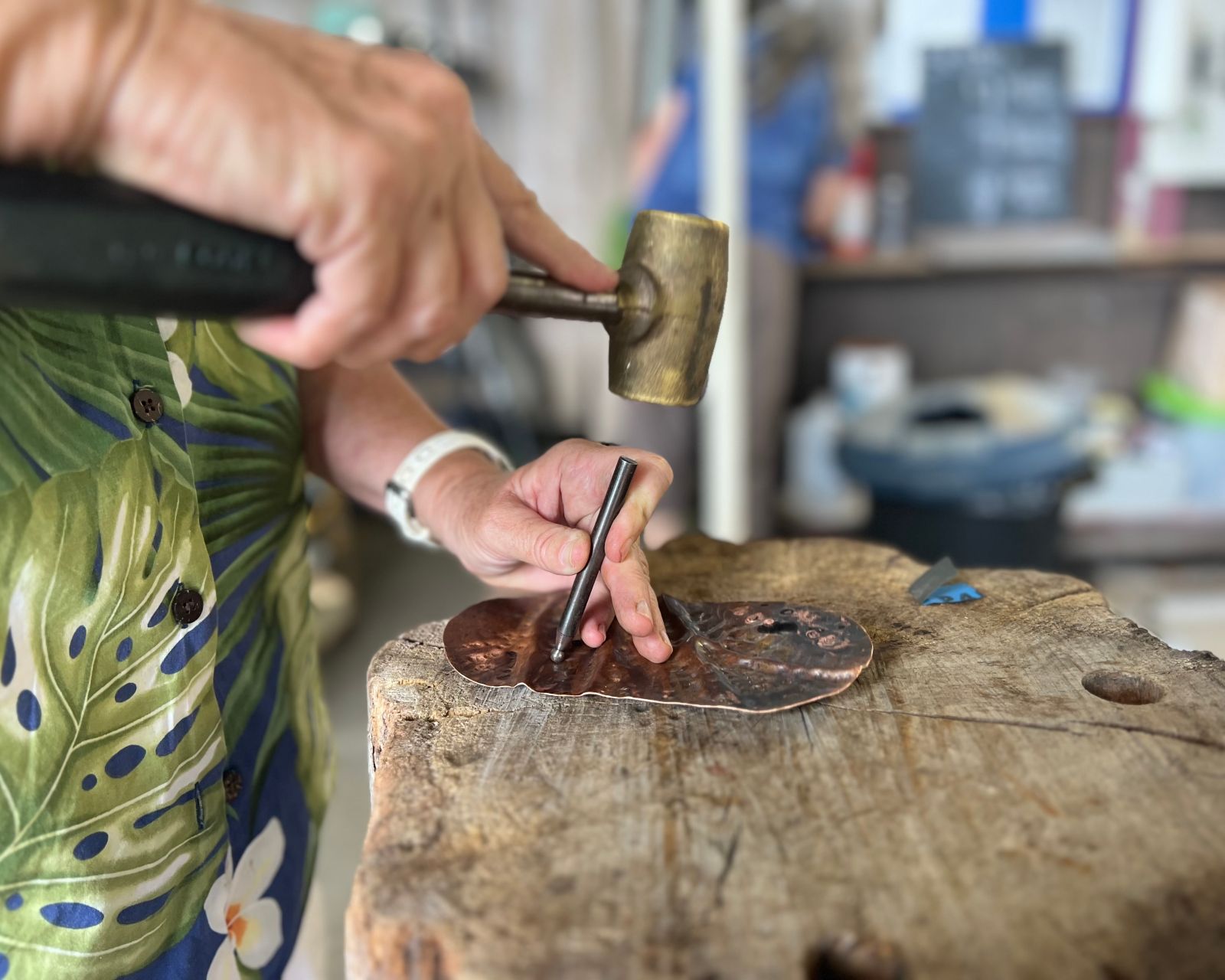 Metals Guided Open Studio: September
with Deborah Beetson
Ceramics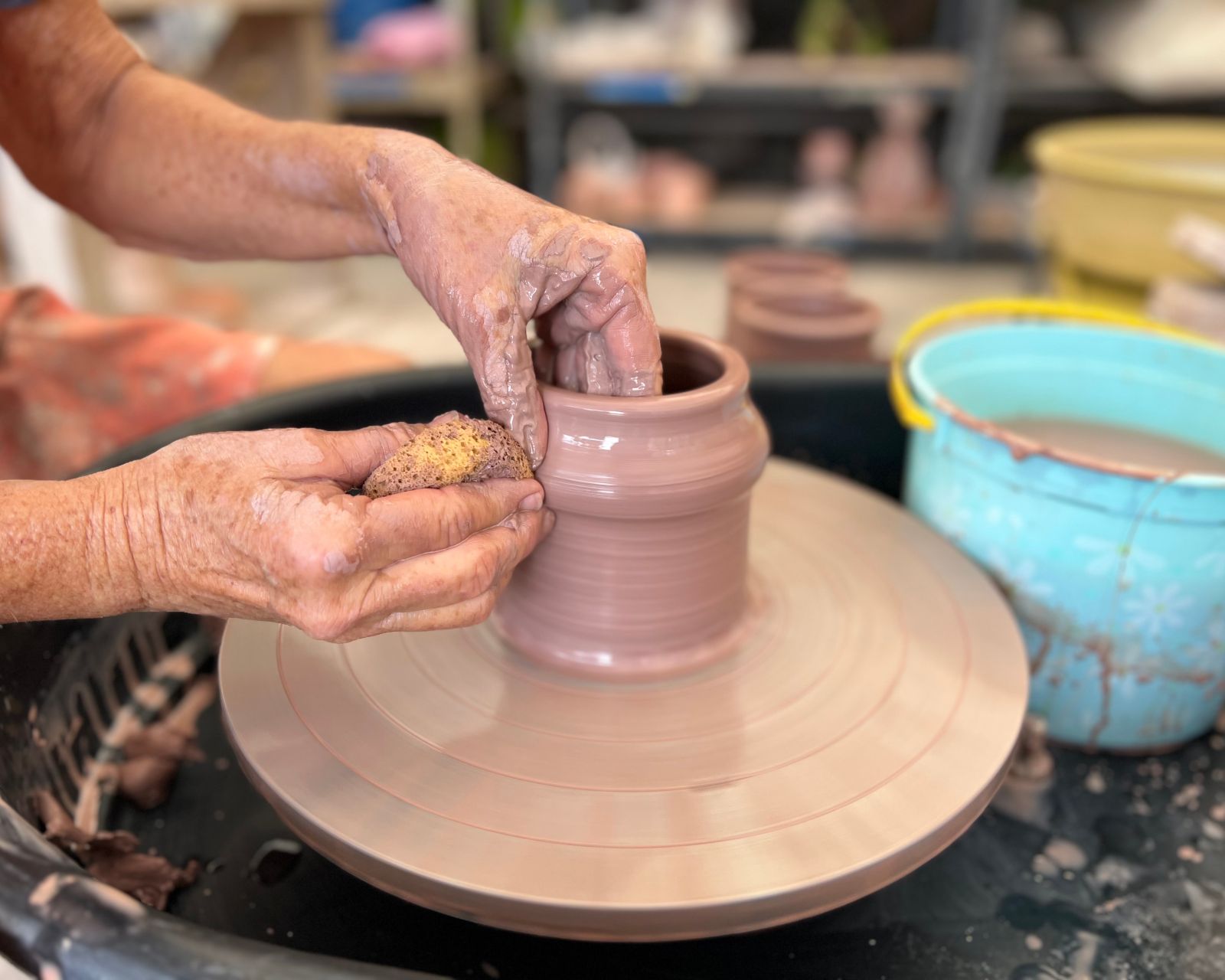 Intro to the Wheel: Fridays
with Sandy Sater