Description: Taking an exploratory approach to image making, this Collagraph workshop introduces a variety of printmaking techniques. Collagraph printing is a modern and low-tech approach that is wide open to inventive methods and surfaces. Using provided plate making materials and simple drawing and cutting tools the possibilities are endless. We will be using Tetra Pak© boxes; these have the Tetra Pak sign on the bottom and are usually but not always aluminum (silver color) lined. Collagraph printing borrows from etching and relief printmaking techniques but uses inexpensive and readily available materials. It is a versatile and creative approach to image making, layering and shaped plate printing.
Schedule: Friday evening, October 6 from 5:30 - 8:30pm (meet & greet), Saturday - Sunday, October 7 - 8 from 10:00am - 3:00pm
Level: Beginner, Ages 16+
Please Note: Registration willl close Saturday, September 30 at midnight.
Supply fee includes:
Standard Studio equipment (ink, brayers and press)
Matt board pieces for intaglio as ink spreaders
Self healing cutting mats
Possibly some shellac
Newsprint
Tracing Paper or similar
Spray bottles - H2O
Gloves
Paper- Hahnemühle (2 sheets each)
A sharp cutting tool such as X-acto knife with cap, or Olfa 9mm utility knife
A tool for scratching lines - scribe, etching tool, nail, dental tools
Your Teaching Artist will provide: Sample collagraph plates, prints to explain the process, and Tetra Pak cartons for plates to be used at the workshop.
Students should bring:
Scissors
Pencil
Sketchbook or notebook
An open mind to explore, experiment, and collaborate
Apron
Snacks, water bottle and brown bag lunch or bring a dish to share for a potluck lunch
Optional:

Masking tape and any other tape you may want to try
Palette knife, can you ever have too many?
Favorite papers, western or washi (if you have them)
Hole punch
Any found objects, textural pieces, different or leaves to impress into the plates. *No sticks or wire of any kind can go through the press
About the Artist: Kathleen Hargrave is a full time artist and educator born in California. She currently lives and works near Seattle Washington. After completing her degree in Art at the University of Oregon, she moved to Washington State and built a studio where she works and teaches. Printmaking has always been one of her passions. 2020 was a significant year and Kathleen has shifted her media primarily to Collagraph and Relief printmaking. She teaches both one-on-one and small workshops. She has been included in numerous group shows and exhibits. Metaphorically, her work explores the transience of our time on earth; a constantly changing place of both sanctuary and uncertainty.
Ceramics
Ceramic Open Studio Schedule: September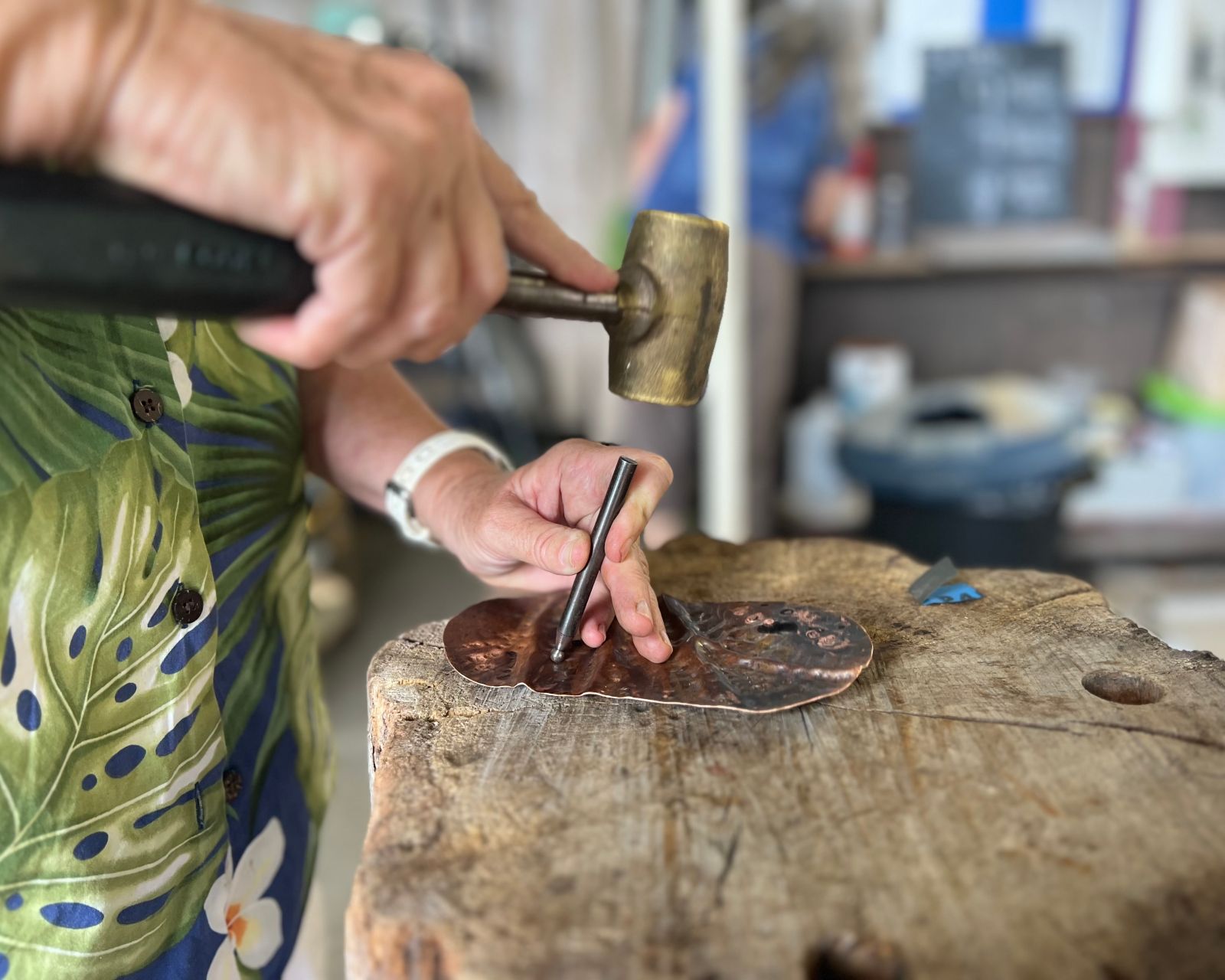 Metals Guided Open Studio: September
with Deborah Beetson
Ceramics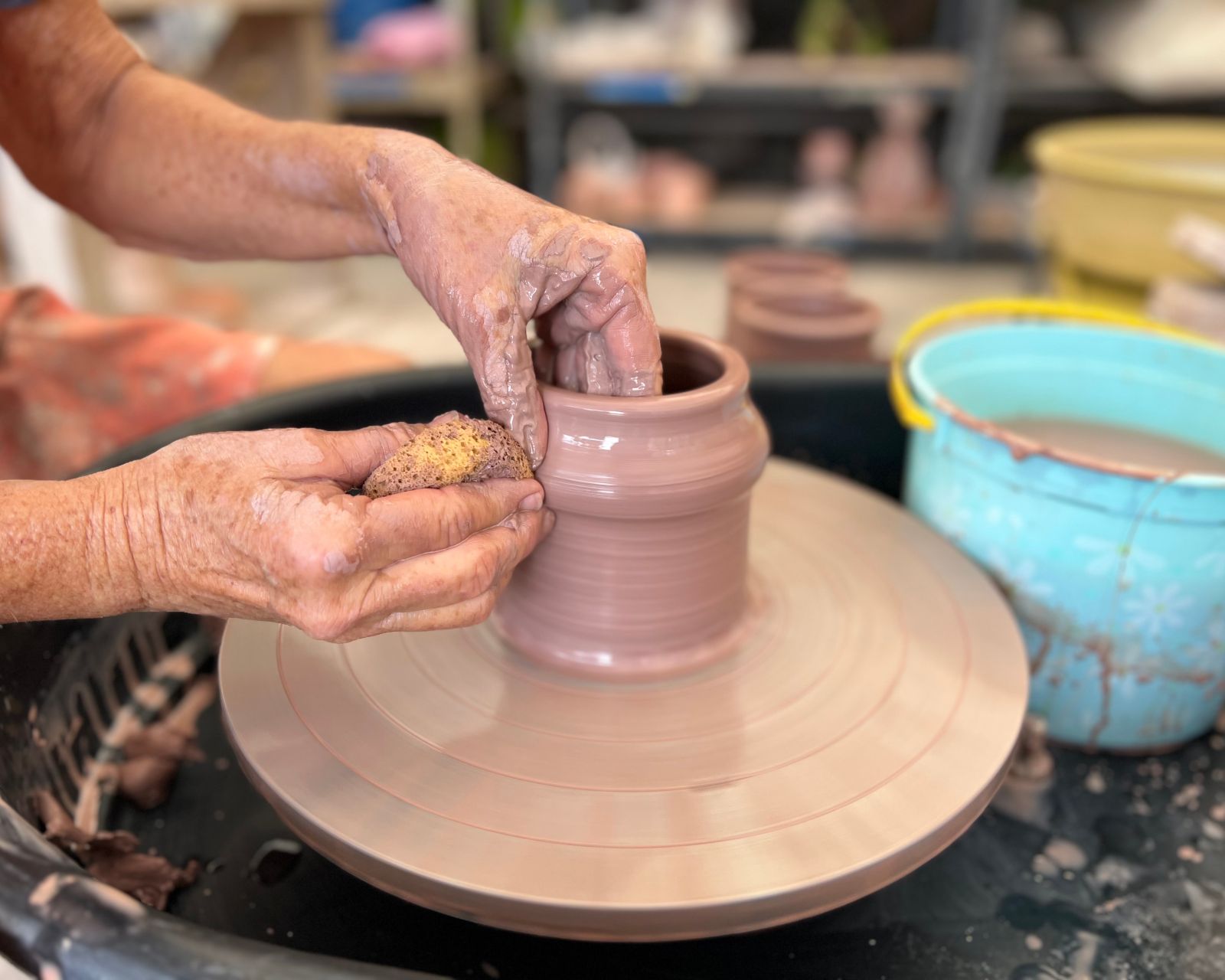 Intro to the Wheel: Fridays
with Sandy Sater