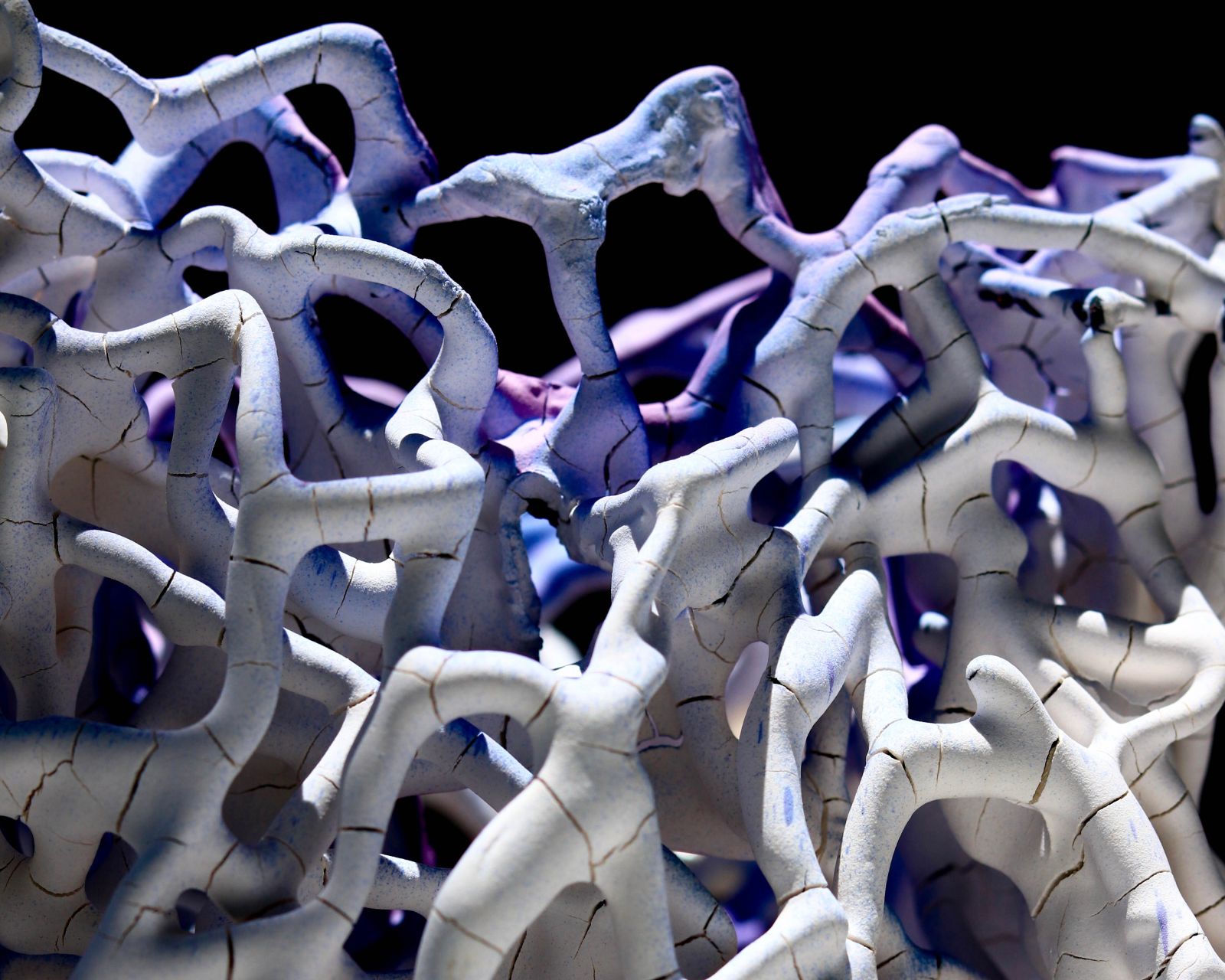 Phase Change: Porcelain in Flux presents a survey of the creative potential of porcelain as an expressive material, one which exists at the intersection of industry and aesthetics. By an intentional reframing of the way porcelain is understood and experienced, the artworks' place within the rich cultural and historical framework of the media is put to question. Through their expertise and deep knowledge of the material, artists push the conventional boundaries of how porcelain exists in the popular imagination.
Phase Change features artwork by ten Hawaiʻi-based artists: Gerald Ben, Jisoo Boggs, Stephen Freedman, Charlton Kūpaʻa Hee, Claire Seastone, Shelby Smith, Shawn Spangler, Brad Taylor, Suzanne Wang and Suzanne Wolfe.
This exhibition was curated by Jake Boggs and Mina Elison. Phase Change: Porcelain in Flux has been approved for a visit from the Acquisition Award Selection Committee of the Hawaiʻi State Foundation on Culture and the Arts.
Featured artwork by Shelby Smith, The Observation of Looking (detail), 2023, Porcelain-dipped wire, underglaze, glaze, and cast glass.
Exhibition Programming:
This exhibition is made possible through support by the County of Hawai'i Contingency Funds from the offices of Dr. Holeka Goro Inaba and Rebecca Villegas, and our community of individual donors.
About the Artists
Gerald A. Ben is a Hawaiʻi-born artist and graduate of the University of Hawaiʻi at Mānoa. Hawaiʻi, especially the island of Hawaiʻi, has always inspired Ben's creativity and styles. Whether it is in his custom cabinetry, fine furniture, or sculpture, Ben's work reflects a rich diversity of media and technical skills which continue to evolve.
Jisoo Kang Boggs is a ceramic artist living in Kailua-Kona, on Hawai'i Island. She began studying art on her home island of Jeju in South Korea and later earned an MFA from Hongik University, her BFA from Konkuk University, as well as a M.Ed in Teaching from UH Mānoa. She currently runs the ceramics program at Kealakehe High School where she teaches full-time. She has exhibited in Korea, Taiwan, and Hawaiʻi and has received multiple awards for her artwork and teaching ability.
Stephen Freedman trained since childhood as a ceramicist. He worked in studios and industry on several continents to develop a repertoire of techniques which facilitate the expression of his diverse interests, ranging from formal pottery in the Sino tradition, to conceptual sculpture, which he has exhibited in galleries and museums throughout the world since 1975.
Charlton Kūpaʻa Hee was born and raised in Kailua and now resides in Kāneʻohe, O'ahu. Kupaʻa studied Environmental Science and Studio Art receiving his bachelor's degree from Santa Clara University. Aside from being a sculptor, Kupaʻa is also a conservationist working to protect the endangered Hawaiian tree snail. Kupaʻa's Hawaiian ancestry allows him seamless transition between the seemingly disparate worlds of art and science. Embodying the aftershocks of a colonized Oceania, Kupaʻa incorporates foreign techniques, materials and ideologies back into Hawaiian visual aesthetics and narratives, exploring insecurities within himself as a contemporary Hawaiian surviving in Hawaiʻi. Kupaʻa has participated in many group shows collaborating with fellow Native artists and is included in the Hawaiʻi State Art Museum collection.
Claire Seastone has been working with clay for 28 years making functional and sculptural work in porcelain and stoneware. She has taught and worked in various clay studios in Montana, Oregon, Italy and Hawaiʻi. A deep love of the natural world is a major influence in Claire's work. Her time spent outdoors serves as inspiration in her pieces, and she strives to convey in her work some of the subtle grace and vitality of objects in nature. Her mission is to bring objects of beauty into the rituals of daily life in order to enrich people's lives. Her current home in Hōlualoa, Hawaiʻi provides an endless supply of natural wonders to contemplate.
Shelby B. Smith is a sculptor who uses all types of media to create works that stretch the potential of materials and the imagination. His work has a fantastical and humorous quality that influences his re-use of many materials. Shelby uses wheel-thrown and hand-built combinations in clay, making functional and Sculptural work using multiple clay bodies and firing techniques. His mixed media sculpture uses the history and patina of time in each object's construction.
Shawn Spangler, a Pennsylvania native, is a ceramic artist currently living and working in Hawaiʻi. Spangler's work draws inspiration from craft, industrial design and digital technology. His installation projects raise questions concerning authorship and commoditization of objects, highlighting the connections and margins between digital and analog processes of producing ceramic vessels. Spangler holds a Masters of Fine Arts degree from Alfred University and recently finished a residency at The Clay Studio in Philadelphia, Pennsylvania. He has shown internationally and has taught workshops at numerous art centers, colleges and universities throughout the United States. Spangler is currently an Assistant Professor at the University of Hawaiʻi.
Brad Evan Taylor grew up between Salt Lake City, Utah and Evergreen, Colorado where the landscape and geology have been constant inspirations. Studying Sculpture and Ceramic Art at the University of Utah, Taylor earned his Bachelor of Fine Arts degree (Cum Laude) in 1988 and went on to pursue and earn his Master of Fine Arts degree in 1992 from the New York State College of Ceramics at Alfred University.
In 1993, Taylor was an Artist in Residence and Factory Liaison for the John Michel Kohler Arts Center and Kohler Company in Kohler, Wisconsin. Taylor taught at the University of Utah from 1994 to 2002, and later taught Ceramic Art at Konkuk University in Seoul, Korea. In 2008, Taylor accepted a position at University of Hawai'i at Mānoa, and in 2023, he started his position as Chair of Art and Art History.
In 2011, Taylor was inducted into the International Academy of Ceramics (IAC) recognized internationally as the principal organization representing excellence in the ceramic arts worldwide.
Suzanne Wang was born in Taiwan and raised in the San Francisco Bay Area. She developed a passion for ceramics as a teenager, and studied drama with an emphasis in theater scene design from San Francisco State University. She received her Master of Fine Arts degree from the Tisch School of the Arts at New York University.
In 2017, she became the first female and Western potter to complete a one-year apprenticeship in Mashiko, Japan with master potter Ken Matsuzaki. Wang currently lives and works from her home studio in rural Hakalau, on the island of Hawaiʻi. She is currently focused on working with interior designers on a variety of projects that include art decor accessories, lighting and functional ware.
Suzanne Wolfe was born in Chicago, Illinois and received three degrees from the University of Michigan, including a BA in anthropology in 1965, a BSD in art in 1968, and an MFA with concentration in ceramics in 1970. In 1971, she served as a professor of ceramics at the University of Hawaiʻi in Honolulu, Hawai'i, where she taught courses at all levels. Retiring in 2011 as Professor Emeritus, she has been able to devote most of her efforts to creative endeavors. Her specialty is mold-making and image transfer techniques. Her ceramic work includes both vessel and sculptural forms. The surfaces often pair text and image to reference social or historical issues and events.
Ceramics
Ceramic Open Studio Schedule: September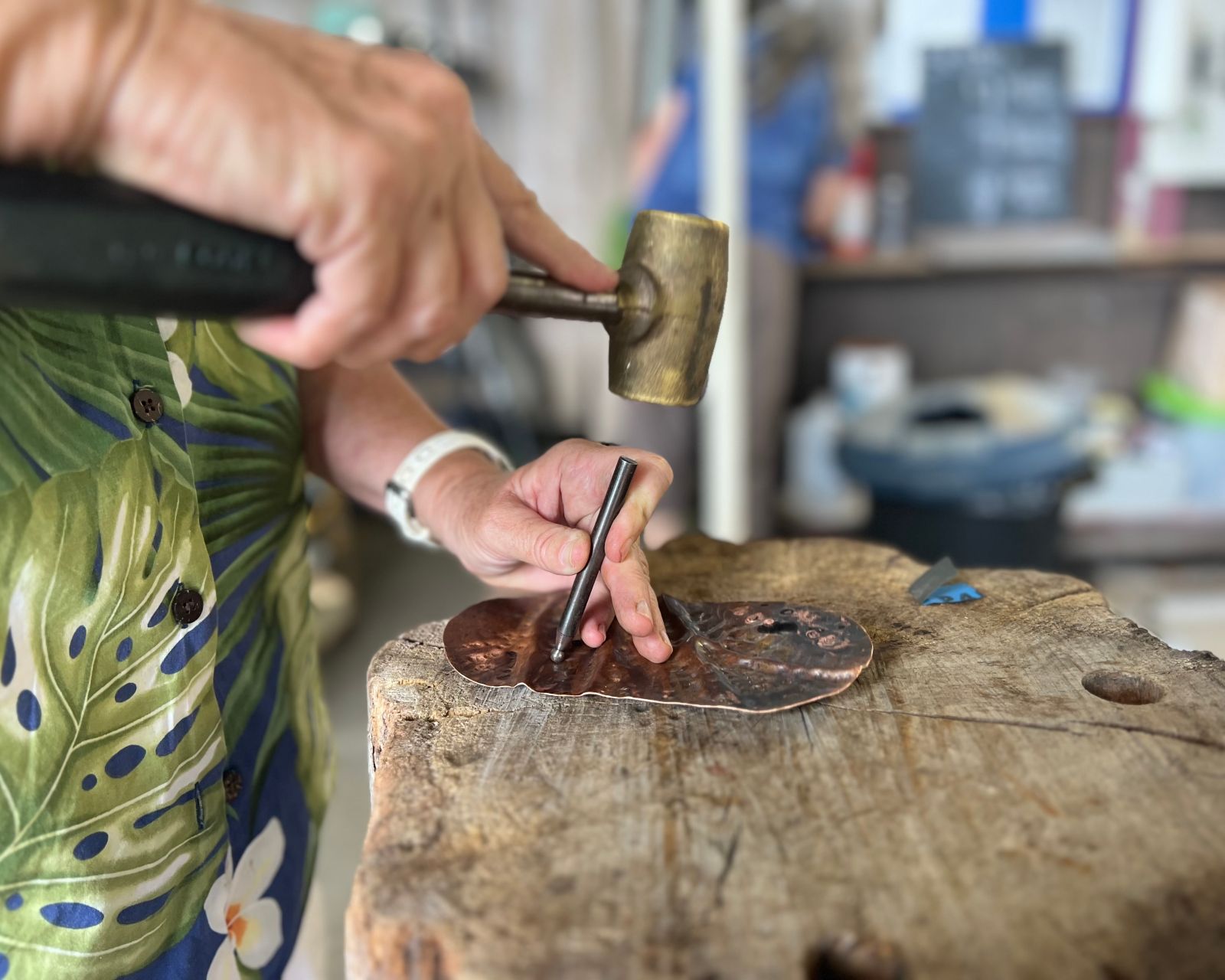 Metals Guided Open Studio: September
with Deborah Beetson
Ceramics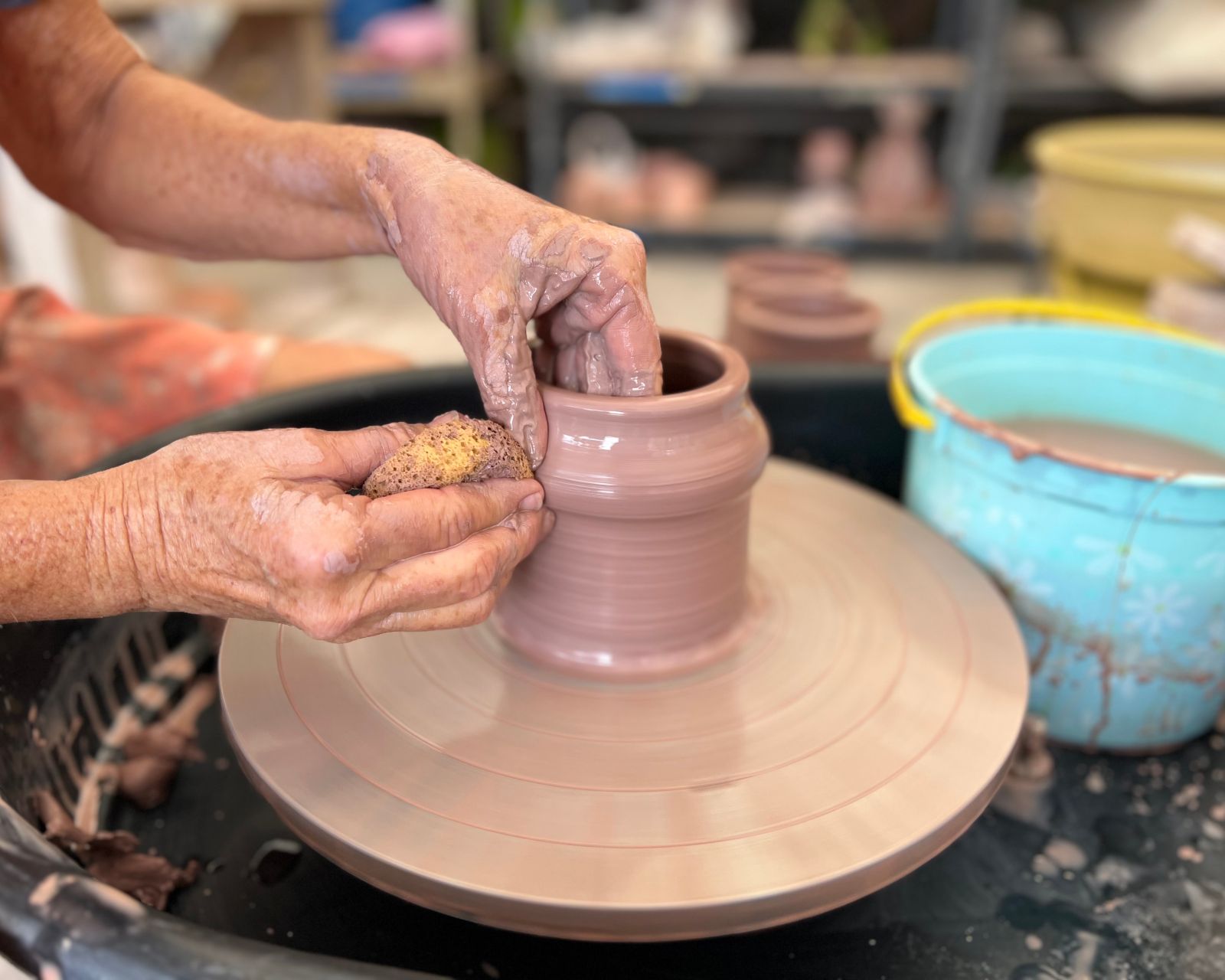 Intro to the Wheel: Fridays
with Sandy Sater