Rooted In Place: Kumu Puakea Forester will guide keiki on a nature exploration of the Mill's gardens through mo'olelo, Hawaiian stories, and the creative process. In Hawaiian Culture, species were not treated as just biological elements but recognised as kino lau, or the embodiment of many. Like contemporary heroes, Hawaiian deities were natural shapeshifters often taking the form of Hawaii's flora or fauna.
Students will create hand-made kapa, kino lau inspired self-portraits, nature rubbings, and mixed-media collages to explore the elements of art using a variety of techniques. This experience will seed a sense of belonging and connection to place through the lens of art, science, and cultural understanding. The program will culminate in a gallery walk and reflection on Friday, October 13 from 2:15pm - 2:50pm. Parents are welcome.
Program Dates: Tuesday - Friday, October 10 -13 from 9:00am - 3:00pm
Ages: Program A: Ages 6-8
If your child is between ages 9-12, please find information about Program B here.
Registration: Registration will open Wednesday, September 13 at 10:00am.
*Registration will close 1 week before the program starts on Tuesday, October 3 at midnight.
Supply fee includes:
Kapa and Kapa Tools
Standard art materials: Paper, brushes, oil pastels, watercolor and tempera etc.
Students should bring:
A healthy snack, lunch and something to drink
Imagination
Curiosity
Concentration
Collaboration
Communication
Kindness
About the Artist: Puakea Forester was born in Kahuku, O'ahu to a woodworker and an arts and religions professor at BYU-Hawaii. Puakea attended Ka'a'awa Elementary School where her kumu hula (teacher) Aunty Kawai Aona-Ueoka, instilled in her a love for hula, and a kuleana (responsibility) in the making of Hawaiian kapa.
"There is profound mana held in the memories of our childhood. One such memory was of being a young girl in the mid 80ʻs, watching my kumu singing with the rustling leaves of her wauke as she plucked the side shoots to make for good clean kapa, caressing them, as you would tending to your loved ones."
When a child bares witness to those in their community tending reciprocal, loving relations between themselves and ʻāina, they see where they too have a familial place amongst the natural world - thereby reducing the impact of colonizing extractive mentalities - resulting in a whole and meaningful sense of self to continue the work of healing and mending broken relationships with nature for our kūpuna (ancestors) & our mo'opuna (grandchildren). Puakea firmly grounds her life work centered upon these principles. With 27 years of teaching ages 2-101, Puakea brings with her a bold and joyful background in theater and dance for social change, global & indigenous women's studies, ethnobotany, and fiber arts.
Ceramics
Ceramic Open Studio Schedule: September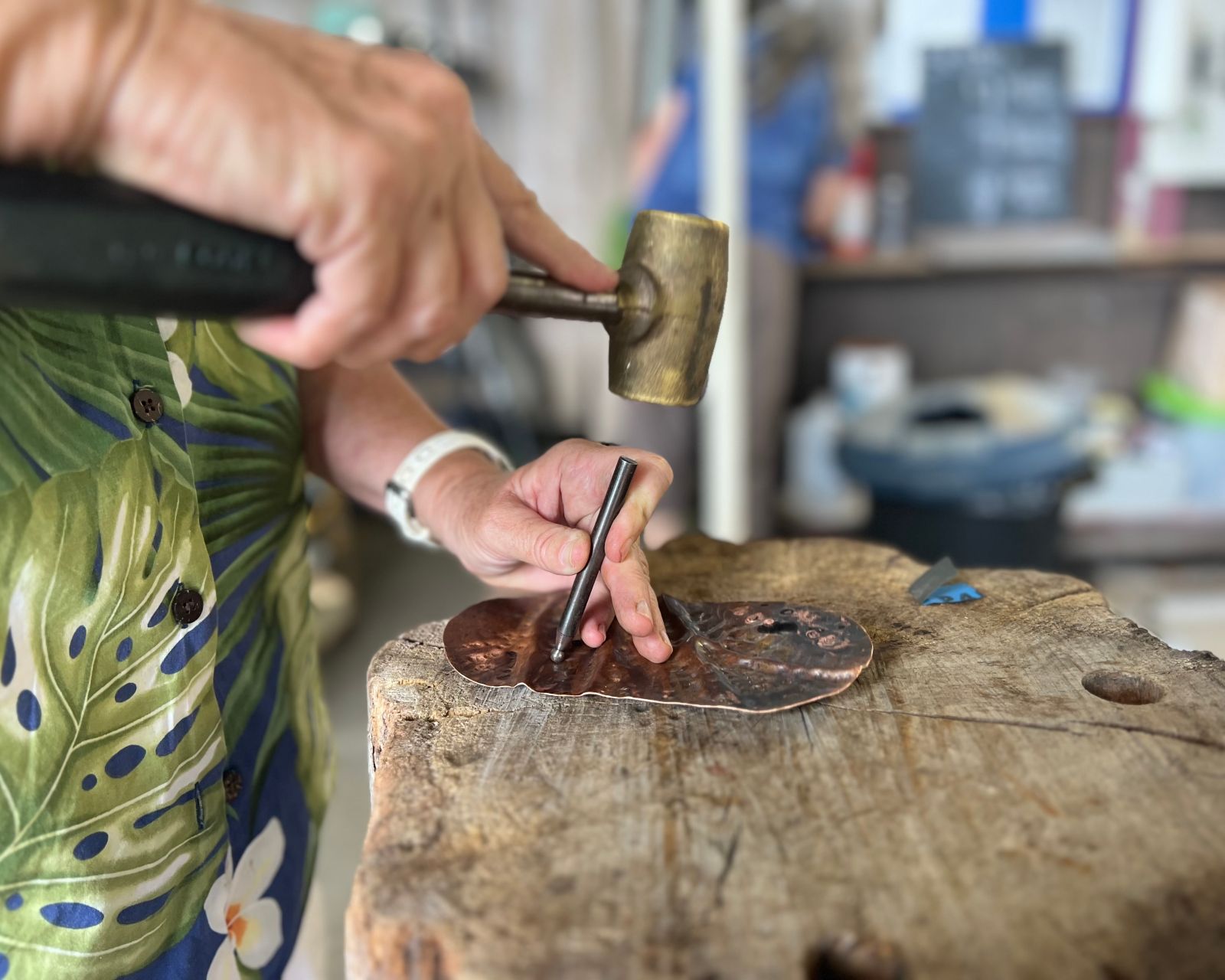 Metals Guided Open Studio: September
with Deborah Beetson
Ceramics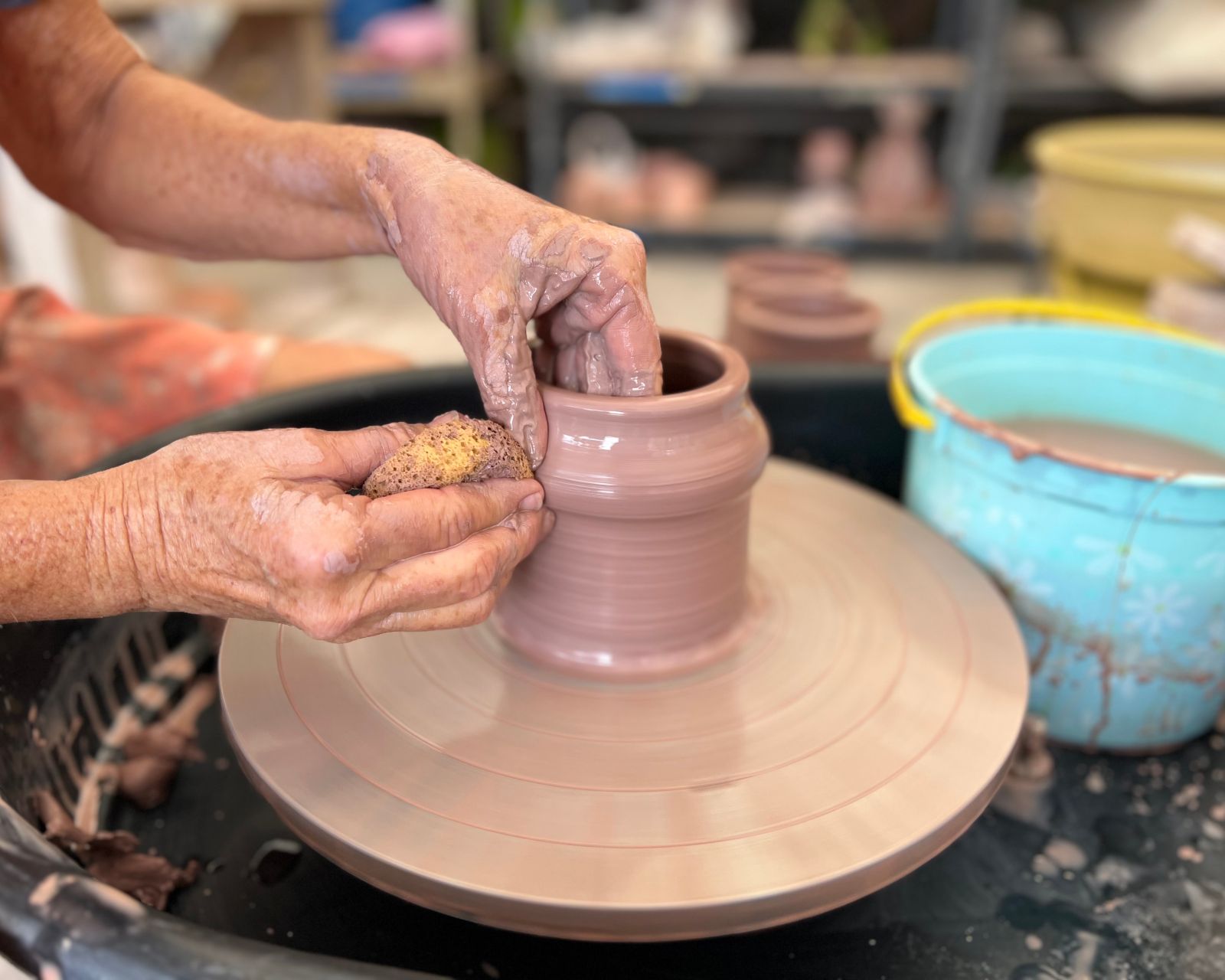 Intro to the Wheel: Fridays
with Sandy Sater